From the rich history to the streets to the landmarks, there isn't any other city quite like Boston in the US. It's no wonder why people from all corners of the country choose to make Boston their new home, with an increase of 12.62% in the city's population since the last census.
Known for its charming neighborhood feel, booming startup scene, and high-quality educational system, Boston is a desirable place to move, both for young professionals and those with families. But before moving to any new city, you want to be prepared and research the place that you'll be relocating to before making a big decision.
Whether you're considering moving or you've already decided that you'll make Boston your new home, it's still a good idea to get to know the city and truly learn what the lifestyle is like. While Boston is a lively metropolitan area with a variety of opportunities, it also has a higher cost of living than many cities in the US.
This Boston moving guide will cover the most essential things you need to know before relocating to the Hub.
Learn the Neighborhoods
Understand the Cost of Living
Get Familiar With the Transportation System
Get a Boston Moving Permit
Hire a Boston Moving Company
1. Learn the Neighborhoods
Boston is comprised of 23 neighborhoods, each with their own unique charm (and levels of traffic). You'll want to consider which one fits your lifestyle best. Keep in mind that Boston is an old city, and that certain areas offer less space than others (especially the city center).
We've narrowed down some of the most popular neighborhoods and organized them by which ones are ideal for families, young professionals, and those who want to be in the middle of the action.
If you're looking for a good neighborhood for families (that's more car-friendly):
West Roxbury
Hyde Park
Roslindale
Looking to be close to the city center and near a variety of restaurants, shops, and things to do? Try these neighborhoods:
Back Bay
Beacon Hill
Fenway
Dorchester
If you want to be near the city proper and close to all the action:
East Boston
North End
Beacon Hill
Both young professionals and families can find something that suits their needs in these neighborhoods:
Jamaica Plain
Roxbury
Mission Hill
2. Understand the Cost of Living
After learning more about the different Boston neighborhoods, you're going to want to look into housing costs. As with other large metropolitan areas, the closer you are to downtown, the more in-demand the housing becomes (and costlier). That being said, Boston still has a high cost of living overall, so if you're moving from a smaller city that may be more affordable, you'll need to be prepared for greater expenses when it comes to rent.
The average cost for a 1 bedroom apartment is $2,601 if you're in the city center, and $1,921 if you're outside the city center.
Some of the most expensive Boston neighborhoods include South End, Franklin Field South, and Chinatown. 
More affordable neighborhoods include Codman Square-East Codman Hill, Fields Corner West, and Bowdoin North-Mount Bowdoin.
In addition to housing costs, utility and food prices are also higher than the state average and national average.
Now, the plus side is that the average salary in Boston is $80K, and wage growth for the Boston metro area is 2.1% year-over-year. The job market in Boston is booming, with a variety of opportunities available.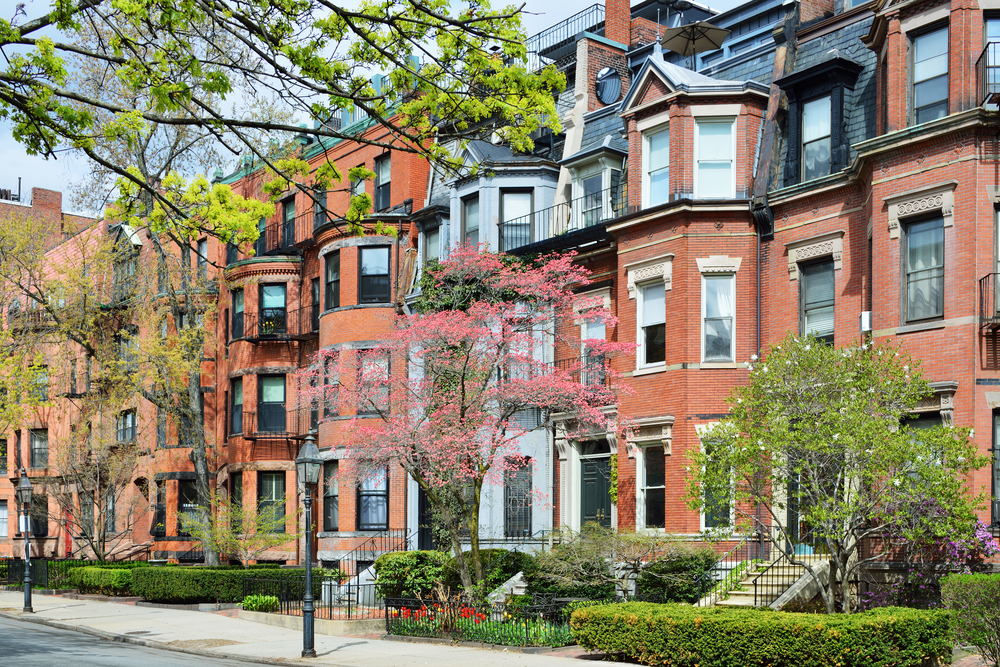 3. Get Familiar With the Transportation System
Boston has one of the top public transportation systems in the country, so even if you find housing outside of the city center and need to commute to the downtown area (and you don't have a car), you can easily do so. 
If you're living in a densely populated part of the city, you should know that most apartments don't include parking spots, so it might not even be necessary to own a car (depending on where you live).
Many people use the MBTA, Boston's public transportation system, for their everyday commutes. This system includes trains, subways, buses, and water taxis.
The city is also very bike-friendly and pedestrian-friendly, so if the weather is decent and you live in an area where you're close to your place of employment (and near places for shopping), you can get to where you need to go on foot. Plus, Boston also has a bicycle-sharing program, so if you need to get somewhere that would be a far walk, that's an option as well.
4. Get a Boston Moving Permit
Though a Boston moving permit is not required when moving, for certain neighborhoods it will definitely come in hand. As mentioned earlier, in some neighborhoods, there is no parking guaranteed, and if you don't secure a spot with the city, it's going to be a very frustrating situation for both you and your movers.
A moving permit will allow you to reserve two parking spaces between the hours 7 AM and 5 PM for one day, and you can apply for a permit either online or in-person (but make sure to check what the requirements are for each option).
5. Hire a Boston Moving Company
Now that you're ready for the move, you need to find a reputable moving company that will get your furniture and items to your new home safely and efficiently. That's where Isaac's Moving & Storage comes in.
We've been in the moving industry for over 25 years and over 77% of our business comes from referrals from satisfied customers. We take the moving process seriously, and each member of our team goes through extensive training in the industry.
From local moving to long-distance moving to packing and more, we'll handle your Boston move and make it as smooth as possible. As Boston locals ourselves, we know the neighborhoods well and understand the requirements needed to make the move hassle-free for you.
Ready to work with us? Contact us today so that we can help you get started.