Moving can be a hassle on its own – but moving apartments can require even more preparation and result in more headaches if things don't go as planned. However, with the right planning, you can make your apartment moving process much smoother. 
Keep reading for a basic guide on what you need to prepare for your Houston apartment move.
Step 1: Decide the Moving Date
The earlier you choose your moving date, the better. This will not only give you more time to plan, but it will also help you secure a Houston moving company that can provide the kind of service and pricing that you're looking for. It's recommended that you start planning your move at least two months in advance.
Apartments will typically require you to reserve a service elevator, and only allow for moving between certain hours of the day (sometimes until 5 PM or 7 PM). You'll need to book the service elevator for both the apartment you're moving out of and the apartment you're moving into (if not on the ground floor). Once you know the date, you can let the management of your building know, and then you'll have that reservation secured.
Step 2: Book a Moving Company
Houston is the most populous city in Texas, and people are constantly moving in and out of it. This means that you'll also need to book your moving service well in advance. Once you know your moving date, you should start researching moving companies in Houston. Availability and pricing may vary based on what time of year you're moving and the level of demand.
To find the right movers, you'll want to look for a highly rated, trusted moving company that has a good amount of reviews. Some movers may advertise very affordable services but the quality of those services may end up giving you more stress later on.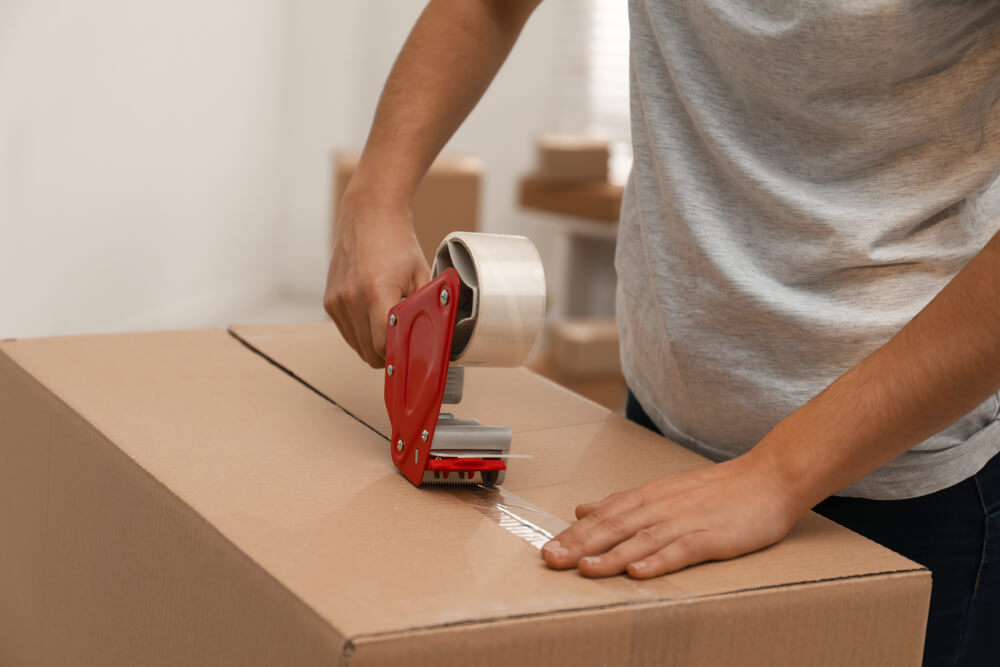 Step 3: Start Packing Early
Even if you're a few weeks out from your move, it's best to start packing items that you don't frequently use. This will be much more convenient for you once the moving date approaches, and you won't be stuck trying to pack everything the night before.
You can pack a little bit each day and begin sorting through and organizing your things – this will also help you see what things you should get rid of.
Step 4: Get Rid of Any Items You Don't Need
Whether you're planning to sell, donate, or discard clothing, furniture, or other items you no longer need, you will have to schedule these in advance of your moving day. If selling items, it can take time to find buyers and organize the transactions. On the other hand, donation services and trash pickups also need to be arranged in advance, especially if you have large pieces of furniture that need to be picked up in a truck.
Getting rid of unwanted items will help clear up space and you won't have to worry about getting rid of them once you get into your new place (plus it will make it faster for the movers if you have fewer items).
Step 5: Schedule Your Utilities
Moving apartments also means moving utilities like electricity, internet, and water. Depending on the building you're moving to, internet services and water may already be set up. However, if those utilities are not automatically available, you will need to schedule your services to be transferred.
Setting up electricity is typically fast and can be done online, while setting up your internet service may require the provider to come to your house, which will need to be scheduled in advance. Make a list of all of the utilities you currently have and contact the service providers about scheduling the services for the new address.
How to Make Your Houston Apartment Move Stress-Free
Trying to find a reliable moving company and getting estimates can be time-consuming, but it's something you don't want to rush. With Isaac's Moving & Storage, you don't have to worry about whether you chose the right mover or not. Our moving company has been in business for over 30 years, and we've served over 100,000 customers.
We have locations in various cities, including Houston, and our professional movers receive the most extensive training in the industry. Get a free estimate today and learn more about why our moving services are highly rated and referred by happy customers.