So, you're considering moving to Houston and want to get a feel for what the lifestyle is like. In addition to researching what the local scene and culture are like, an important detail to consider is the job market, and how much you'd potentially be making.
As the largest city in Texas with a population of over two million, there are a variety of industries and employment opportunities available, and the salary will vary depending on what field you go into (and your experience).
In this article, we'll go over what you can expect salary-wise when moving to Houston in a general sense, along with which industries are the most lucrative in this city. Plus, we'll touch on the cost of living in Houston to help you get an idea of what your expenses would be.
Average Salary in Houston
According to Payscale, the average salary in Houston, Texas is $73K. Wage growth for the metro area has had an increase of 2.1% year-over-year, while the cost of living has decreased by 2%.
So, how does that average salary compare to the typical cost of living in the Houston area?
Cost of Living in Houston
For a single person, the monthly costs are estimated to be $2,189. However, it's important to keep in mind that certain expenses can vary based on which part of the city you live in. If you're planning to reside in the city center, you can expect higher rent costs. If you plan to live further from the city center, the rent will be a bit lower, but you will also need to factor in expenses like transportation and gas (Houston is also known to have a lot of traffic, so keep that in mind!).
How does the cost of living in Houston compare to other large cities in Texas?
When compared to other cities, the cost of living in Houston is 11% lower than Dallas, and 26.2% lower than Austin. However, when compared to San Antonio, the cost of living in Houston is 7.6% higher. In general, Houston is actually quite affordable when compared to other big cities in the country.
Top Industries in Houston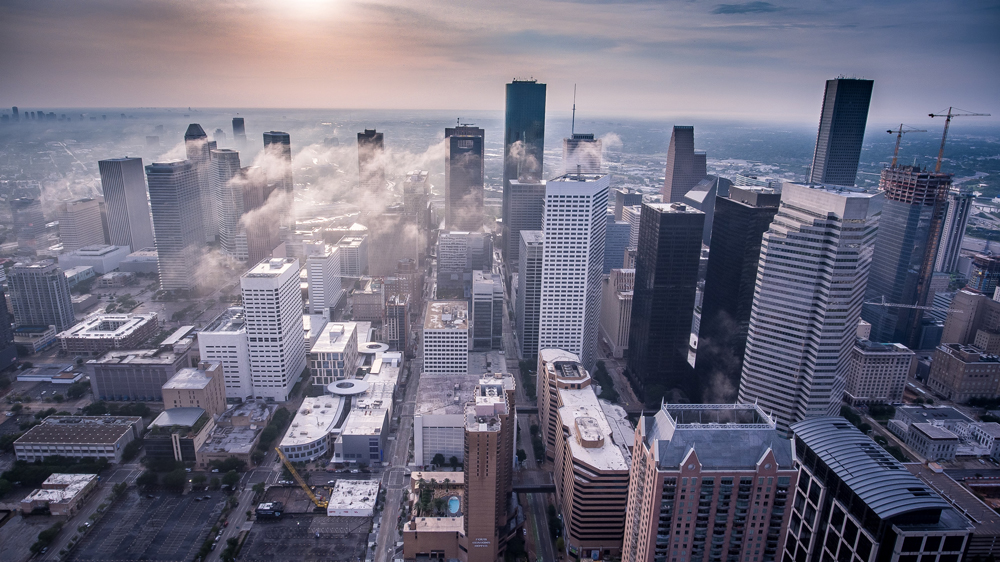 Overall, Houston offers a variety of employment opportunities and some of the country's largest companies are headquartered in this city. As of September 2021, the unemployment rate is 5.5.
Similar to the variance of housing costs in relation to where in the city you move to, you can expect different salary ranges based on the industry you work in, along with your level of experience.
Let's look at the major industries in Houston:
Aerospace & Aviation
Energy
Life Sciences / Biotechnology
Advanced Manufacturing
Digital Technology
Transportation & Logistics
Top Paying Jobs in Houston
The highest-paying jobs in Houston are typically in the STEM/medical fields, with anesthesiologists, surgeons, physicians, and podiatrists having some of the highest average salaries.
Other high-earning salaries in the city include petroleum engineers, chemical engineers, marketing managers, financial managers, and sales managers, to name a few.
Another thing to keep in mind is the level of experience and the organization you're working for, as these can have an impact on your salary.
Ready to Plan Your Houston Move?
Now that you have a better idea of the average salaries in Houston, you may want to look into what the typical salaries are within the field you work in. If you're planning to move to Houston without a job lined up, there are ways to get established and find employment once you arrive.
Whether you're a local Texan that's moving cities or you're moving to the lone star state for the first time, organizing your move will take a bit of planning – and finding the right moving company is essential.
At Isaac's Moving & Storage, we're experienced in all types of moves, from local moves to long-distance moves. We have offices and storage facilities in various states, including one in Houston, Texas.
Why Choose Isaac's Moving & Storage?
As one of the most trusted moving companies in the country, customers can be assured that their items will be moved with care and attention. Isaac's moving is properly licensed, internationally certified and everyone on our team receives the most extensive training in the industry.
Contact us today to learn more about our moving and storage services. We look forward to helping make your Houston move as smooth as possible!